About Kais Hire Pty Ltd
Kais group is now trading as KAIS HIRE Pty Ltd.
Kais has an impressive record in the civil and earthmoving industry, renowned for the BEST SERVICE and TOP QUALITY EQUIPMENT!
OUR CLIENTS WILL TELL YOU WE MAKE IT HAPPEN!!!!  YOUR SUCCESS IS OUR SUCCESS.
Whilst specialising in the Earthmoving, Civil construction and Mining industries in Western Australia's remote regions, KAIS has become well known over many years for its expertise in final trimming, including experience in the latest techniques of GPS / Topcon technology. We provide all necessary equipment, such as lasers, tripods and survey support equipment for computerised control of final trimming.
Our customer focus, 24/7 service, level of expertise and "tenacious attitude" to getting the job done are renowned in the industry.
When you have a problem, we are the ones to contact. We guarantee to supply the equipment you need without delay, and our first-rate maintenance and service policy guarantees minimal downtime on-site.
It's hard to put a price on such "extras" – so we don't! Our prices are competitive, our service second-to-none, and our equipment top notch!
All of this translates into higher productivity. Choosing KAIS will make a difference to your bottom line!
---

Kais Contractors was founded in 2004 when Sharon Kais convinced Dave Kais to purchased their first grader.  A big thanks to Mick Anderson and Barry Perry of MacMahons for our first job on the Tonkin Hwy JV.
Dave Kais had worked in the Civil and Mining industries since he was 17 years old and learnt every aspect of earthmoving on all mobile plant equipment.  During this period, Dave has worked his way from mobile plant operator to Earthworks Superintendent with some of the largest and renowned Civil and Mining Contractors in WA - such as Leightons, MacMahons, NRW, Thiess, Vincent Earthmoving, PHS, Morrone Nominees, Goldfields Contractors, and Bell Bros.

Dave Kais prides himself with his vast knowledge and experience he can give his business and clientele to meet their project needs.

Years later, Sharon Kais saw the boom with coming with the start up of Hope Downs, FMG and the expansion of the BHP sites.  Sharon Kais convinced Dave Kais she was going to start a plant hire company based on Dave's expertise and Sharon's keen eye of financials, contracts and tenacious attitude of getting the job done. Well Dave said "you wont be able to it"!! Within 10 years Kais had accomplished 53 machines and 75 staff.  Such an impressive effort for a family business.
With many thanks Daryl Ergovich at Brierty, Pat Sledzinski at BGC TPI Rail, Kais Contractors won their first contracts. 
Founder and Director Sharon Kais paved the way to make KAIS a successful Plant Equipment Hire business with an impressive record!  Prior to establishing Kais Contractors, Sharon has had over 26 years of expertise in accounting, finance, payroll and contracts for major companies such as Woodside, O'Donnell Griffin, Australbricks, Micropay and Temples WA.
Kais Hire is a member of CCFWA and the year Sharon Kais won the Women in Civil prize in 2012, Sharon gave the donation back to promote Women in Civil (WIC) for their members.  Sharon Kais is active on the Committee to support women coming through the industry.  This was such a great honour and very rewarding after all the hard work establishing the company to where it is today.
Sharon Kais also won the Business Person Award 2016 for the Belmont Small Business Awards.
Sharon Kais was nominated for The Entrepreneur of the Year Award 2014. This was a great honour to make it in the top 13 people selected for WA and to be one of two women nominated.   The awards program recognizes entrepreneurs who demonstrate excellence and extraordinary success in such areas as innovation, financial performance and personal commitment to their businesses and communities. 





The team at Kais Contractors is very proud of the accolade of winning the "2012 & 2013 Hanson Swan Business Award - Mining Services".  2017 - Belmont Small Business Awards - Community Spirit award.  This is priceless and so rewarding. 
Dave and Sharon believe in giving back to the community and Kais has donated over $1million dollars to the community sports programs, Ronald McDonald house and balls, Toybox, Variety splash, Toybank and ball, Ngala functions, Rafiki, Solaris, Glen Forrest Fire Brigade, NSW fires and NSW wildlife.  Going forward Kais will be starting their own charity "Rainbow Sue" in memory of Sharon's Sister Suzanne who suffered Mental Illness.  Monies raised will help support people with everyday living needs at home with their Mental Health issues and to support single mothers Womens Refuges restart with the necessities of life.
RMH taskforce for the new home.
 L-R, Brad Shallard, Peter McBain, Dalton Gooding, Sharon Kais, Keith Sheppard, Peter Meurs, Dr Ken Michael
Front L- R, Emily Howard, Alison Salmond, Kylie Guerriero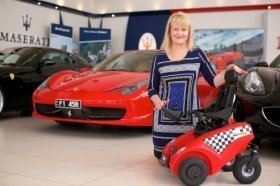 Kais Contractors donates Wizzybug for the Toybox charities.